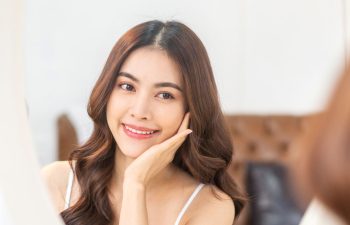 There are many surgical procedures that require the use of drains. These small silicone or rubber tubes are placed under the skin through small incisions to allow excess fluid or blood to be released during the healing process after surgery. While the surgical drain can prevent fluid accumulation for some cosmetic surgeries, it is not always needed. Dr. Stefan Shuaib at Dallas Facial Plastic Surgery Center offers a drain-free facelift that can improve the comfort and healing process for his patients.
Facelift procedures have been performed for many decades and usually required drains inserted under the skin. For patients, drains are not always comfortable. The drains can make it uncomfortable to sleep, and many patients are not happy with the release of fluids from their facial area. Plastic surgeons that use drains for facelifts usually only require them in for 1-2 days after the surgery, but the patient then needs to return to the surgical center to have the drains removed.
Dr. Shuaib is a double board certified facial plastic surgeon who specializes in advanced facelift surgery techniques. There are methods that can be used to eliminate the need for surgical drains when performing both face and neck lift procedures, but not all plastic surgeons have these skills. Dr. Shuaib is meticulous in his facelift techniques, which allows his patients to recover comfortably without drains placed in their face after surgery.
Quicker Recovery and Minimal Bruising
Beyond the patient comfort factor, there are other benefits to performing drain-free facelift surgery. Dr. Shuaib has found that using advanced, drain-free methods for neck and facelift procedures results in fewer incisions and less scarring – drains do require separate incisions for placement. Plus, patients can experience less bruising and a quicker recovery from their facelift procedure than those who undergo a traditional facelift.
If you are considering a facelift to rejuvenate your facial appearance, it is important to research your plastic surgeon thoroughly. Not all plastic surgeons are "facial" plastic surgeons or double board certified like Dr. Stefan Shuaib, and many still use unnecessary surgical drains for their facelift procedures. To learn more about our drain-free facelifts with minimal bruising and quick recovery, contact us at Dallas Facial Plastic Surgery Center in Irving, TX.