Dr. Stefan Shuaib
Double Board Certified Facial Plastic Surgeon
Dallas Facial Plastic Surgery Center
The face you see in the mirror should reflect how you see yourself in your mind. For many individuals, facial plastic surgery and cosmetic treatments offer a way to reconcile the way they look with the way they feel. Dr. Stefan Shuaib and our aesthetic team at Dallas Facial Plastic Surgery Center are your source for intricate facial enhancements to help you feel confident and look your absolute best at every stage of your life.
Dr. Stefan Shuaib is a double board certified facial and reconstructive surgeon with a reputation for perfectionism in his craft. His attention to detail and artistic skills have created stunning results for his patients. Dr. Shuaib specializes in utilizing cutting-edge techniques to create natural-appearing results with a quicker, more comfortable recovery for his patients. Dr. Stefan Shuaib is double board certified in Facial Plastic Surgery and in Head and Neck Surgery. When you choose Dr. Shuaib for your facial cosmetic procedure, you can rest assured you are in excellent hands for your transformation.
Providing care for my patients and restoring their quality of life gives me a sense of pride and joy that reminds me over and over again why I became a surgeon in the first place.
Dr. Stefan Shuaib
Double Board Certified Facial Plastic Surgeon
Dr. Stefan Shuaib is a double board-certified in Facial Plastic Surgery and in Head and Neck Surgery. Based in Dallas, he specializes in facial rejuvenation and rhinoplasty.
Dr. Shuaib has been practicing since 2017. He is known as a perfectionist who goes the extra mile to ensure the best possible outcome. He is deeply invested in the satisfaction of the patient as well as the final aesthetic results.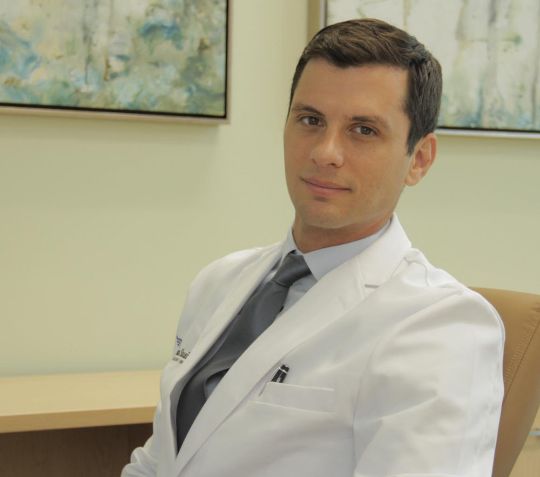 Patients Testimonials
I highly recommend Dr. Shuaib. I had been wanting to have rhinoplasty for the past 15+ years and I'm so glad I found a doctor that accomplished exactly what I wanted to have done. I wanted to look like myself after surgery and I definitely do but with a more refined nose and with a lot more confidence. Thank you Dr. Shuaib and thank you to your wonderful staff for making this process as easy and comfortable as it was.
Highly recommended. My husband had two prior bad rhinoplasties. He lost his nose tip and he had been very depressed. These bad surgeries really brought down his confidence. We went to 3 other surgeons who advised us not to do anything else or we would run the risk of making it worse. Dr. Shuaib was very confident about fixing the problem and reversing the damage from the very first consultation. He was very professional and friendly. He was empathetic with our concerns and addressed every one of them. My husband had the surgery and we could see the positive results immediately after. It has been 10 days, and his nose is recovering rapidly, swelling is going down and the shape is fantastic. Dr. Stefan Shuaib is not only a great doctor, but a great human being. He gave back all my husband's confidence and made our lives better.
I had been looking for a surgeon to fix my nose for a long time and I'm very happy I found Dr Shuaib. I love the way my nose came out and my confidence has gone up. Thank you for giving me a beautiful nose! From the front staff to the medical assistant, thank you for making this process so easy. It didn't take long to get an appointment to see him.
Advanced Facial Aesthetic Procedures
Whether you want to refresh your eyes or reshape your nose, you can enjoy phenomenal results at Dallas Facial Plastic Surgery Center. Our talented aesthetic and medical team offers advanced cosmetic procedures and treatments to help you achieve your best appearance. From non-surgical options such as liquid facelifts or laser skin tightening to intricate plastic surgery options like rhinoplasty and blepharoplasty, we can help you create the best look at any age.
Everyone wants to love the image they see in the mirror. If you are unhappy with a humped nose or want to look more like your younger self, facial plastic surgery and cosmetic procedures can give you confidence in your appearance. Dr. Shuaib and our team will listen to your desires and help make them a reality with our wide selection of advanced aesthetic procedures at our clinic in Dallas, TX.
When you are ready to explore your cosmetic options for a facial transformation, come see us at Dallas Facial Plastic Surgery Center. We welcome patients from all over Texas and throughout the world at our state-of-the-art aesthetic center in the greater Dallas area. Contact us today to schedule your personalized consultation with Dr. Stefan Shuaib to begin your aesthetic journey.